This Is THE CATALYST
a 7 week EXPLORATION into radical self-acceptance
YOU WERE MADE FOR MORE.
YOU CAN FEEL IT.
But chances are, you're feeling disconnected from yourself and unsure of how to tap into your inner wisdom and intuition. Something's off, and you can't quite put your finger on it.
I get it. There's a lot of noise out there. A lot of inspirational quotes, beautifully curated instagram feeds, and even more spiritual jargon that just feels like BS.
FOLLOW YOUR BLISS.
LET YOUR INTUITION LEAD THE WAY.
RAISE YOUR VIBRATION.
Except right now that feels like something you'd read on a bumper sticker on the car in front of you, and less like something that's easily accessible to you.
My guess is you're feeling tapped out. You're stressed, overwhelmed, and straight up frustrated. You've placed yourself last on your priority list, and let's face it, you're energetically depleted - and it sucks. It's time to stop ticking off the items on your to-do list and it's time to call in more intentional action.
You're a woman who's destined for great things. You know you are and it's time to stop convincing yourself otherwise. It's time to stop "waiting for the right time" and buying into that voice in your head that tells you you're not good enough.
It's bullshit and you know it is.
It's time for a change.
It's time that we stopped sacrificing our own joy and wellbeing for the sake of making someone else happy. No longer can we put our needs last, give our power away, and dim down our desires. Ignoring your heart and being so damn hard on yourself isn't working - and it never will.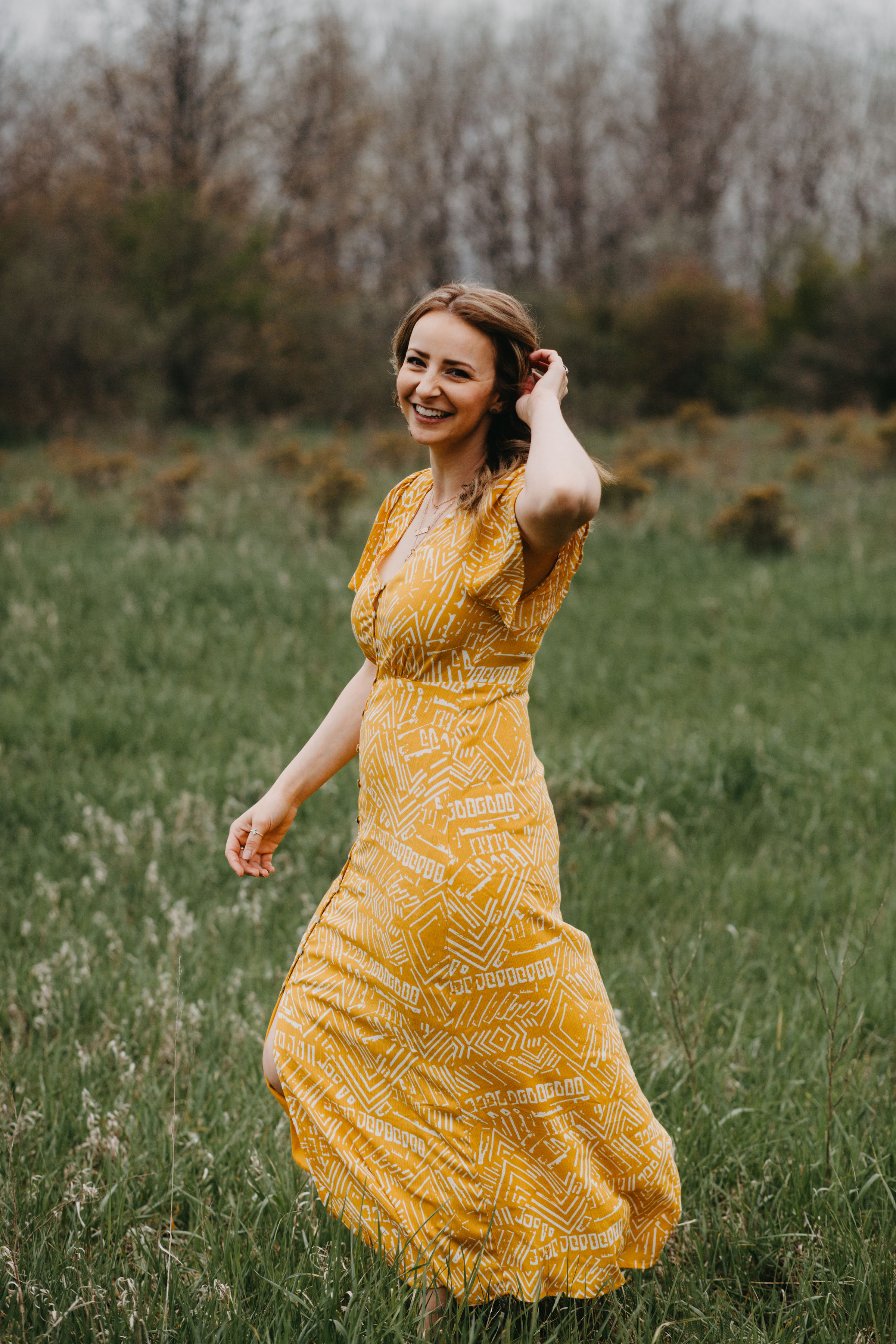 YOUR BLUEPRINT TO PERSONAL TRANSFORMATION
The Catalyst is more than another online program… it's an experience.
Women thrive when we feel seen, heard, and understood. We radiate when we're supported and celebrated. For centuries women have come together in circles to connect, to grow, to heal - and today, we live in a society where we're more "connected" than ever before, but feel more isolated and alone.
There has to be a different way.
And there is.
Radical self-acceptance. What does that even mean?
Imagine what would change if you fully and completely accepted who you are. Not in spite of your "flaws", or the "not-so-pretty" parts, but because, they too, are beautiful.
Imagine how it feel to stop the war against yourself. All of those times where you looked in the mirror only to be met with criticism, the moments when you told yourself you were "too much" or "not enough". The interactions with people when you dimmed down, played small, held back from speaking up, and when you didn't implement boundaries for fear of what the other person would think.
Imagine how different your life would be if you asked for what you wanted, unapologetically - because you truly believed you were deserving and worthy of your desires.
Imagine approaching self-care, not from a place of obligation, but because you genuinely enjoy taking care of yourself and showing yourself love.
It's groundbreaking. Earth-shattering in the best way possible.
Now, imagine being surrounded by a community of women, doing the work alongside you, cheering you on, every step of the way.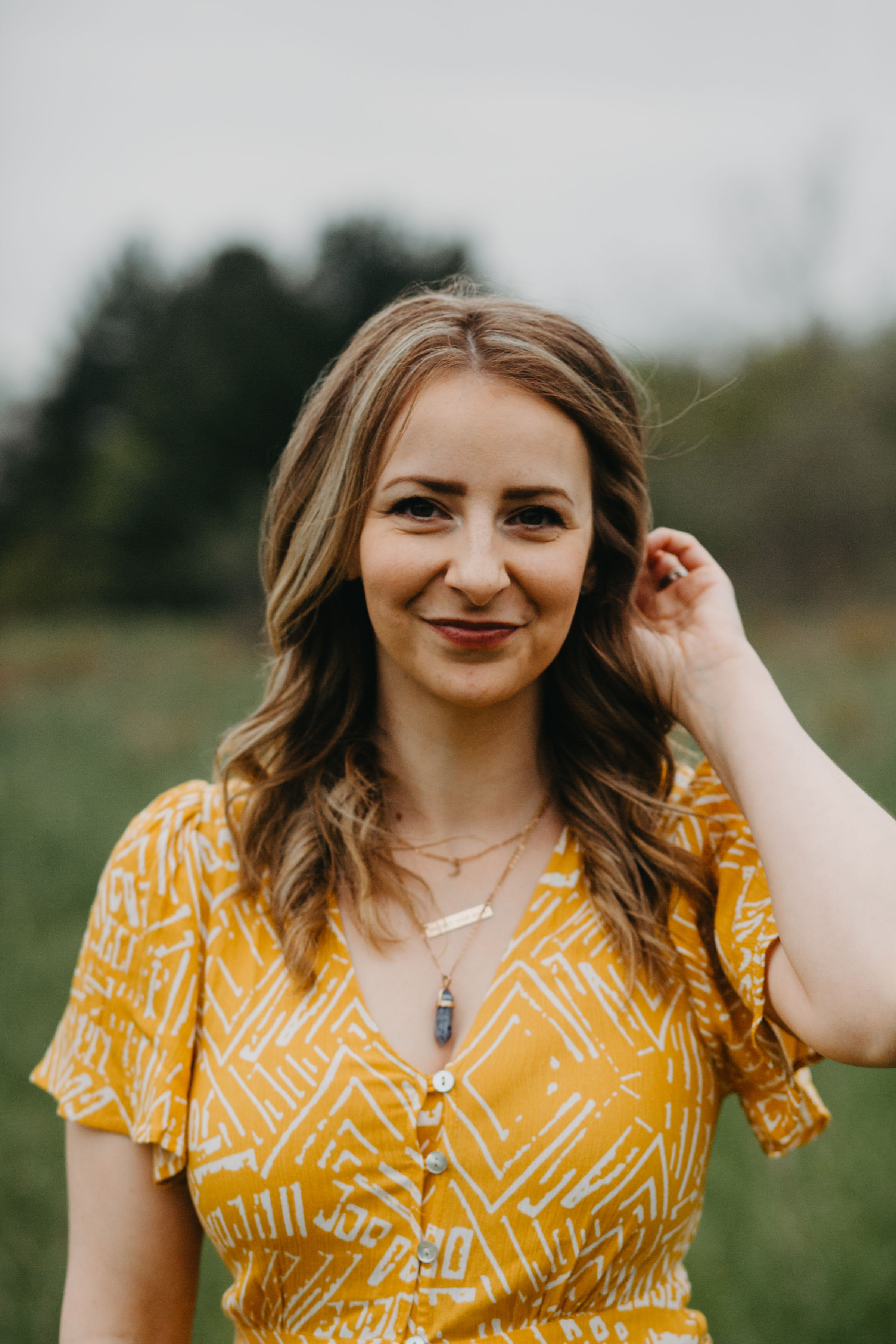 MODULE ONE: EMBODIMENT & GROUNDING INTO WHO YOU ARE
Let's invite some sacred ritual into your life, shall we? Together we'll set personalized intentions, learn about our own unique energy, hold space for the tough (but oh-so-juicy) questions, drop out of our heads and into our hearts, with tools to ground back into our body.
MODULE TWO: SUPER CHARGE YOUR CLARITY
Dial up your dreams for a moment - then crank it up a few more notches. We'll get clear on what your desires are - and why. We've already gotten clear on what your intentions are, so let's design your most beautiful life from that space.
MODULE THREE: MASTERING YOUR MINDSET
The Inner Critic. The self-sabotage. The "I'll never be good enough". The self-doubt. Those destructive patterns that keep popping up. We're diving all in.
MODULE FOUR: SELF-TRUST & MANIFESTING MORE
Uncertainty. Scarcity. Fear of failure. "But, what if…" - it's all blocking you from accessing what you really want in life. Let's remove those blocks and become a manifestation magnet.
MODULE FIVE: NAVIGATING ROADBLOCKS WITH EASE
Resistance, fear, and judgment can leave you paralyzed. I can promise you they'll never go away - but don't worry, let's fill your toolkit with what you need to move through them.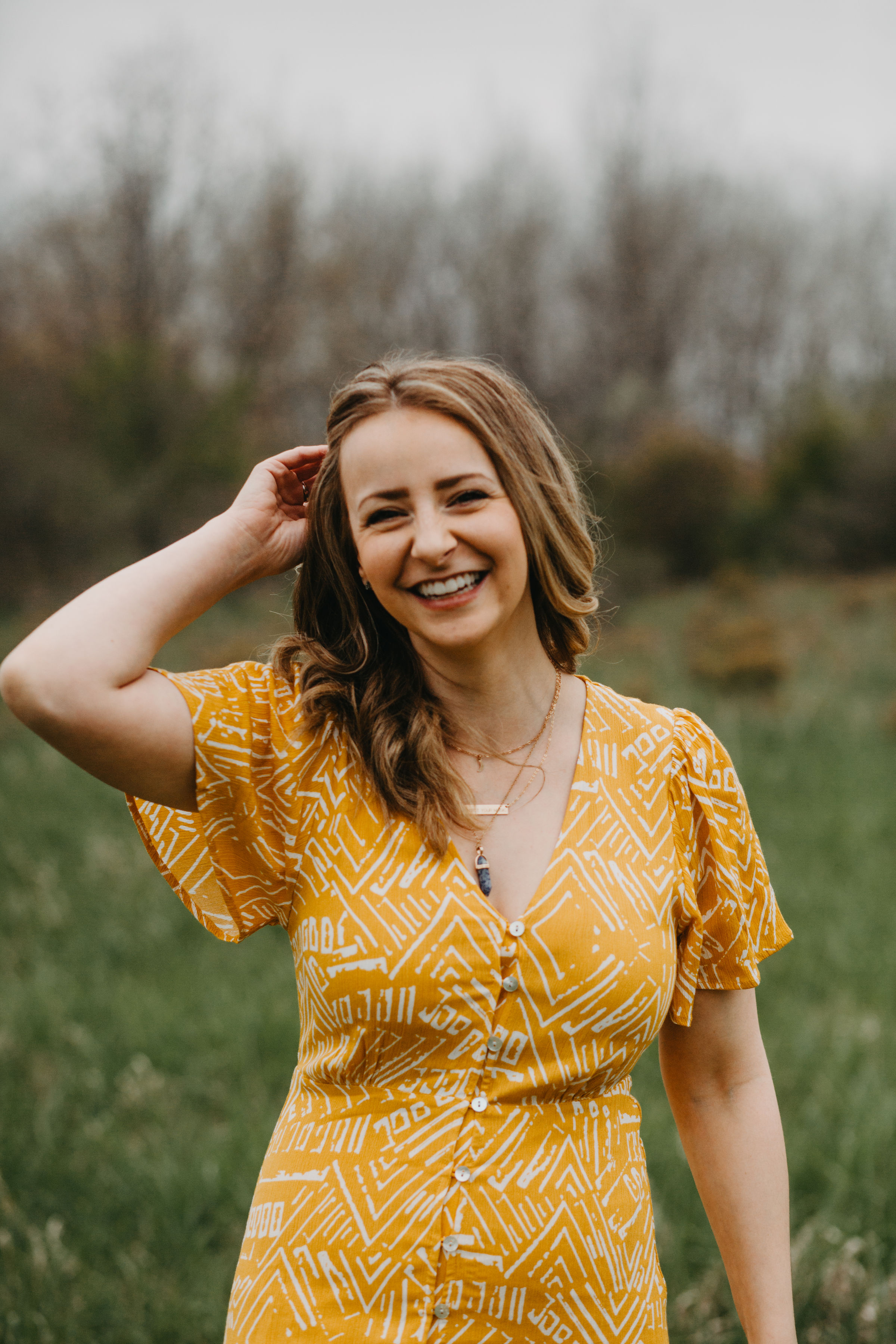 MODULE SIX: KNOW YOUR WORTH & OWN YOUR POWER
Embrace your inner B. Yep, I'm talking about boundaries. Say goodbye to your people-pleasing tendencies, stop saying "yes" to everything, and discover the fierceness within you.
MODULE SEVEN: IMPLEMENTING FROM THE FOUNDATION UP
We're taking everything we've covered and weaving a whole lot of practicality in your life. Designing daily rituals and a nourishing self-care plan just for you. Transformation is nothing without integration.
This is the framework, the "bones" of The Catalyst. The beauty of it comes from co-creating. I've intentionally left room for a whole lot of play during our time together - because this program is not about me, it's about us.
This is intuitively led - and that means, we may shift the content if it feels right. We might dive deeper if we're called to do so. We might discover something that we didn't realize we needed, but suddenly it's become blatantly clear.
I'm doing this program with you. I'm sharing my experiences, opening up about my struggles, celebrating my wins - because we don't need another coach who's acting like they have it all together. We're all human, and we're truly all in this together.
WHAT'S INCLUDED:
7 x modules including videos from Allie, available to you weekly that takes the guesswork out of how to move forward and ignite a new-found motivation and clarity to finally create change in your life, while feeling grounded and supported the whole way through
A supportive and inspired Facebook community. (Only open during the duration of the program)
3 x Facebook Lives with Allie. This will be the space where you can submit questions and receive personalised guidance with the course material and anything else you need support with
Accountability check-ins
Personalized oracle card readings from Allie
Bonus interviews with special guests, to be announced.
Plus more bonuses to be announced
I'm a certified life coach who specializes in guiding women to shift their mindset and practice radical self-acceptance so they can access the clarity and confidence they need to live life on their terms.
My intention is to be generous, kind, and straight up while allowing my heart to lead the way so that I can show up fully - for you - creating space to be wherever you are.
I've worked with enough women over the past four years in my business to know that when you stop playing small and start embracing who you are, magic happens.
I want to see you rise up, and take back that power you've been relinquishing lately. I'm here to be your catalyst. To guide you, challenge you, support you, cut through the bullshit, drop the limitations and remind you just how powerful you really are. The thing is, I won't settle for you playing small.
Are you ready to take the leap?
An exclusive interview with Kate Courageous where we're diving into how to transform the inner critic and cultivate courage in our everyday lives.

Kate is a life coach and expert on how to make courage into a lifelong habit. She's also the Director of the Courageous Living Coach Certification and author of The Courage Habit, and creator of the Courageous Living Program.
THIS IS FOR YOU IF…
✦ You've been craving change in your life for awhile now, but the world is so damn noisy and everything is moving so fast that you've completely lost sight of what your desires are - and it's manifested in leaving you frozen in total inaction.
✦ You feel lost and confused. Your entire life you've been told (and sold) what you should do, think, and believe. Except, you're sick and tired of "should" and the rebel in you wants to burn it to the ground. It's time to discover the YOU under all that unconscious programming.
✦ You know it's time to bring your attention to the pieces of yourself that you've been neglecting for far too long. You've read all the books, listened to all the podcasts, ticked off all the boxes, but something isn't lining up… you still feel disconnected from yourself.
✦ You're ready to do the work. You're ready to explore parts of yourself that light you up - and the parts of yourself you've been too resistant to face. You're ready to get to the bottom of that resistance so you can take ownership of your life.
So you can rise up.
So you can activate your inner power, awaken your intuition, and transform your life.
THIS IS NOT FOR YOU IF…
✦ You're the kind of person who likes to dip their toes in, do a couple of worksheets, and then bail. This program is designed in a way that allows you to access your own inner guidance system - yes, it's thoughtfully created and the foundation is there - but ultimately, you're doing the work. The challenges, practices, and integration into your life require mindfulness, and most importantly, your awareness and engagement. Your participation is a requirement.
✦ You tend to make excuses and listen to them. There will be a time during these 7 weeks together when you'll feel resistance, maybe even overwhelm. I'm here to support you and guide you through those moments, but I am not here to pull you along the way.
✦ When shit gets triggering and confronting, you resist taking ownership for it. The Catalyst will only be effective for women who ask questions like, "What's my responsibility in this?" and "What's within my control in this situation?"
✦ You simply cannot and will not gift yourself the time and space to fully immerse yourself in this program. Commitment-phobes are not welcome here. We need your full presence during the entire 7 weeks of The Catalyst.
At the end of this program, you'll...
Have a clear understanding of your values and intentions in your life

Know exactly how to ground your nervous system and honour your energy

Have total clarity over what your desires are and why

Feel more connected to your intuition than you've ever felt before

Be more in tune with your body, your energy, your emotions, your thought patterns

Have reframed your approach to your inner critic, problem solving, and goal-setting

Loosen the control you have in your eternal world: your work, relationships, goals

Feel more worthy and open to receiving what you want to manifest

Have the toolkit to move through resistance, overwhelm, comparison, and procrastination with ease

Feel confident implementing boundaries, playing big, and speaking your truth

Become more responsive, rather than reactive

Feel a sense of lightness, possibility, and ease in your presence

Have built a relationship with yourself wrapped up in nourishment, pleasure, compassion, and acceptance
+ What Do I Need In Order To Participate?
You'll need Wi-Fi and your laptop/desktop/smartphone/tablet of choice to access all of the course materials and a Facebook Account to access the private Facebook community and the live calls with Allie.
+ Can I take the course at my own pace?
You can - BUT! I highly encourage moving through the content with the live group. Beautiful things happen when done in community with each other. You will have lifetime access to the course materials and you're more than welcome to revisit at any time.
+ Do I receive your support throughout the course?
Yes! The Catalyst participants get the very best of me during the 7 weeks together. Our playground during the course will be in our Facebook community, where I'll be active daily. I'm also available for additional support if needed via email during our time together.
+ Can I get private coaching with Allie?
Yes! The Catalyst and 1:1 Coaching with Allie go together like peas and carrots. Peanut butter and jam. Jay Z and Beyonce. See which coaching package is best for you here.
+ Can I get a refund?
No. This is a mutual contract. I am committed to creating and holding space for you during The Catalyst, and you are committed to your own transformation. If you decide to discontinue, you are still legally responsible for paying the balance.
+ My question hasn't been answered here…
If you have any burning questions that haven't been answered here please get in touch with Allie via allie@allietymo.com and I'll be able to help you.